Termite Control in Santa Rosa
Termite Extermination in Napa, Sonoma & Marin Counties
Termites pose a unique—but serious—risk to your property. Although they are not known for spreading disease like other pests, such as rodents or cockroaches, termites can cause significant structural damage to your home or commercial building. Remediating termite damage can be costly, time-consuming, and disruptive to your everyday life or business operations.
At We Care Pest Solutions, we help customers throughout the Bay Area who are dealing with minor and major termite infestations. Our comprehensive range of pest control services includes effective solutions for ridding properties of termites and preventing future infestations. If you need termite control in Santa Rosa or any of the surrounding areas, give us a call right away.
Common Types of Termites in the Bay Area
The United States has three different types of termites, all of which can be found in Sonoma County, Napa County, Marin County, and throughout the Bay Area.
The three different types of termites in the Bay Area include:
Dampwood Termites: The aptly named dampwood termite gets its name from its preferred colony location: damp, decaying wood. Dampwood termites are relatively large in size, anywhere from 20 to 25 mm long, and have big heads with noticeable pincers, or mandibles, on the front. In California, Dampwood termites are more commonly found along the coast and will make their colonies in damp or decaying wood on the ground, rather than in the soil.
Drywood Termites: Drywood termites are generally more destructive than dampwood termites but less destructive than subterranean termites. Like dampwood termites, drywood termites nest in and feed on wood. But, rather than damp or decaying wood, drywood termites prefer dry wood, including the wooden structures that make up homes and commercial buildings.
Subterranean Termites: As their name suggests, subterranean termites prefer to nest underground, rather than in the wood on which they feed. Though they are smaller than dampwood and drywood termites, subterranean termites can live in large colonies comprising hundreds of thousands of individual insects. As such, they can be immensely destructive.
All three types of termites are common throughout California, including in Santa Rosa and the surrounding areas. While most termite infestations consist of various drywood species, you could also have an infestation of dampwood or subterranean termites.
You can reach us by phone at (707) 988-5780 or here on our website. We offer same-day services and free estimates on most projects.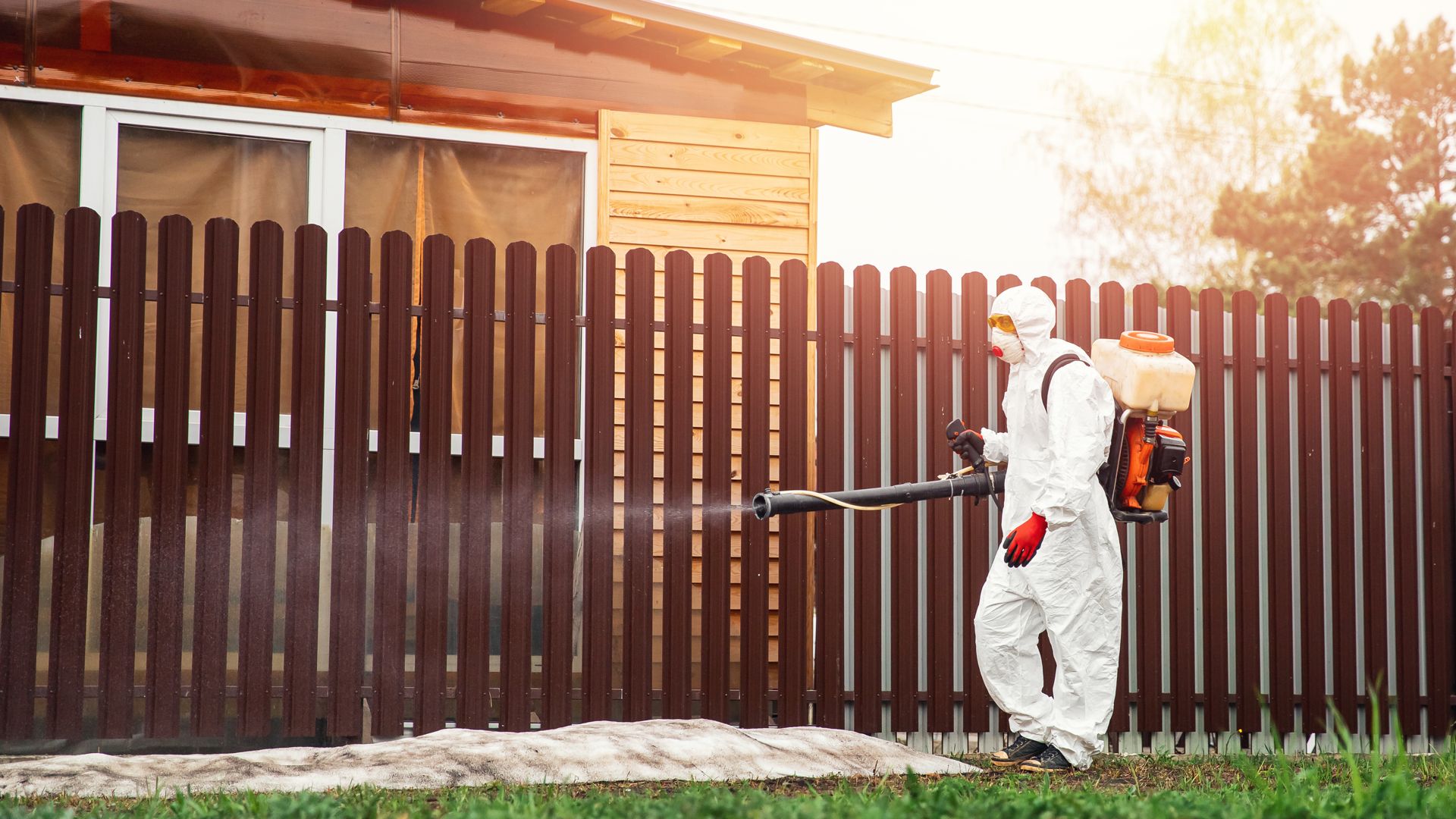 Why Choose us?
Trusted For 25+ Years for A Reason
Ofrecemos Servicios en Español

Nuestro equipo bilingüe se enorgullece de ayudar con servicios en español.

100% Satisfaction Guaranteed

We strive for 100% customer satisfaction with every job we complete.

Safe Solutions for Your Home or Business

Our pest control services minimize risk to your family, pets, and the environment.

Get a Completely Free Estimate

Get started today by giving us a call and requesting a free estimate.
How to Tell If You Have a Termite Infestation
The exact signs of a termite infestation depend somewhat on the type of termite. However, there are some common signs that indicate you have a termite problem.
You may have a termite infestation if you have noticed any of the following:
Visible signs of wood damage, such as crumbling
Small holes in drywall
Discolored, drooping, or otherwise damaged drywall
Wooden floorboards that are excessively squeaky
Buckling or damaged wooden or laminate floors
Windows or doors that often get stuck or won't open/close
Piles of termite wings (which may look like fish scales) in your home or business
Termite pellet mounds (which may look like small piles of salt/pepper)
Peeling paint, loosened tiles, and other signs of moisture damage
Maze-like patterns on wooden furniture, walls, or floors
Mud tubes on or around the foundation of your home or property
Visible termites or termite swarms inside or anywhere on your property
If you have noticed any signs of a termite infestation, the best thing you can do is to contact a professional pest control company right away. At We Care Pest Solutions, we provide fast, effective solutions designed to eradicate termites and prevent future problems.
We're Crawling with Great Reviews
Reviews & Testimonials
"Excellent Experience"

Great customer service and quality work.

Wes M.

"Great Experience!"

Customer service was wonderful: courteous, professional, and friendly.

Andrea H.

"Great Experience!"

They showed up for the estimate on time and gave us an accurate quote for the work that needed to be done. They came back to do the work on time, and were clean and professional.

Shaw K.

"Professional Service"

Professional, on time, and locally owned.

Herlinda H.

"Highly Recommend!"

We Care has been servicing our home, an office property, and a rental for about 18 months. They have followed up diligently, with courtesy and genuine concern for our property.

Maureen M.

"Happy Customer!"

My neighbors have tall trees with needles and cones so we get a variety of bugs and spiders around my house and yard. With the quarterly service through We Care Pest Solutions, I don't have to worry about any of these pests.

Bobbie P.

"Experienced & Professional!"

I can always count on We Care Pest to come out super fast and handle any bug or rodent issue I have at my country property in Bennett Valley.

Mel F.

"Great Company!"

Super easy company to deal with. Good and fair price.

Jason Z.
Termite Control Techniques
There are many different treatments used to control termites. At We Care Pest Solutions, we utilize integrated pest management (IPM), which combines numerous methods for lasting termite control.
First, we'll assess the scale of the infestation before designing a customized treatment plan. Depending on the size of the infestation, the type of termite in your home or business, and other factors, we may use a combination of environmental control, habitat management, chemical treatments, and other eco-friendly solutions meant to prevent termite establishment, reproduction, and distribution.
All our termite control techniques are highly effective and low-risk for humans, pets, the environment, and non-targeted organisms. Our technicians receive ongoing training and are fully licensed and insured for your peace of mind. We strive for complete customer satisfaction with every job we complete; if you are not happy with our work for any reason, just let us know, and we'll do everything possible to make it right.
Schedule an Appointment for Termite Control Today
If you're dealing with termites at your home or commercial property, don't wait to request an appointment with We Care Pest Solutions. The sooner you schedule termite control services in Santa Rosa, the more you reduce your risk of significant structural damage and other termite-related problems.
Our team is standing by, ready to take your call. We offer free estimates and same-day service—reach out to us today to learn how we can help you!
Call (707) 988-5780 or contact us online.
Pest Control FAQ
Frequently Asked Questions
Check out our pest control FAQ to find answers to commonly asked questions. Can't find the answer you need? Give us a call at 707-988-5780 today!
Do termites make any noise?

Yes, termites can make noise. They do this by hitting their abdomen against the ground. This makes a drumming noise that is used to communicate with other termites.

What are termites?

Termites are wood-destroying insects. Their presence dates back to the dinosaurs. While they play an important role in nature, pest control experts estimate they cause $5 billion in property damage each year.

How many termites live in a single termite colony?

One termite colony can have as many as 1,000,000 termites.

How difficult are termites to treat?

We Care Pest Solutions has the training, expertise, and up-to-date technologies to properly exterminate termite infestations throughout the North Bay.

What can a homeowner do to prevent termites?

There are many steps a homeowner can take to help prevent termite infestations. Most importantly, you should eliminate or reduce moisture in and around the home (termites need moisture to thrive). You can also reduce humidity in crawl spaces with proper ventilation and trim vines, hedges, and other vegetation to prevent them from blocking vents. Also, try to maintain an 18-inch gap between soil and any wood portions of your home.