Rodent Control in Santa Rosa
Managing Rodent Problems in Napa, Sonoma & Marin Counties
Rats, mice, and other rodents are common pests in the Bay Area. These small mammals often enter homes and other buildings to escape harsh environmental conditions, find food or water, nest, and breed. Because they reproduce very quickly and in large quantities, a seemingly minor rodent problem can soon become a full-blown infestation. All it takes is one male and one female rodent to create a massive problem.
At We Care Pest Solutions, we offer comprehensive rodent control in Santa Rosa and all of the surrounding areas. Our eco-friendly, effective solutions are designed to target pests while reducing risks to humans, pets, non-targeted organisms, and the general environment. In addition to ridding your home or business of rodents, we also employ proven techniques, such as integrated pest management, to prevent future infestations.
Signs of a Rodent Infestation
While you may spot a mouse or rat in your home, it's far more common to see rodent droppings. In fact, droppings are often the first sign of a rodent problem—and where there is one rodent, there are likely many more.
If you notice any of the following signs, you could have a rodent infestation:
Droppings on the floor, in cupboards, in drawers, under sinks, and near food sources
Chew or gnaw marks on food packaging, as well as holes chewed through packages
Rodent nests or nesting material, such as shredded fabric, paper, or plant materials
Unusual, stale odors coming from various areas, such as under sinks or behind walls
Scratching, clawing, or squeaking noises coming from inside walls, pipes, or other hidden areas
Holes with signs of chewing or scratching in the walls, doors, or floors of your home or business
If you actually see a mouse or rat in your home or commercial building, it's possible that just one rodent has managed to enter your property. However, if you remove the mouse or rat and continue seeing signs of rodents, such as droppings, you most likely have an infestation.
Contact us online or call (707) 988-5780 to schedule an appointment with our team today. We offer free estimates and same-day service.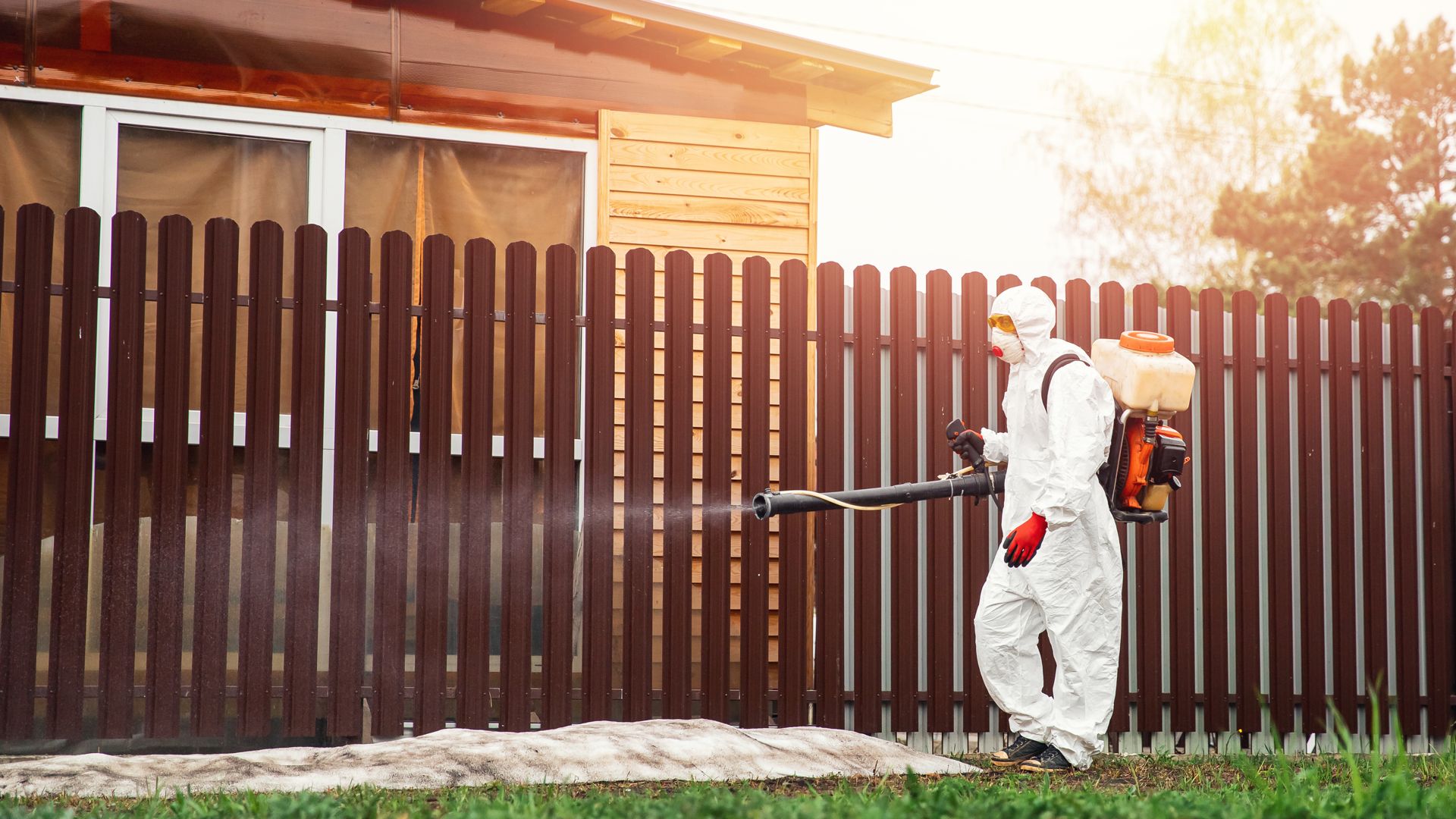 Why Choose us?
Trusted For 25+ Years for A Reason
Ofrecemos Servicios en Español

Nuestro equipo bilingüe se enorgullece de ayudar con servicios en español.

100% Satisfaction Guaranteed

We strive for 100% customer satisfaction with every job we complete.

Safe Solutions for Your Home or Business

Our pest control services minimize risk to your family, pets, and the environment.

Get a Completely Free Estimate

Get started today by giving us a call and requesting a free estimate.
The Dangers of a Rodent Infestation
Though many people keep mice and rats as pets, it's a different story when undomesticated rodents enter your home or commercial property. Wild rodents can carry diseases, many of which can be harmful to humans (and pets). Even breathing in contaminated air can lead to disease transmission between rodents and humans. Being bitten or scratched by a wild rodent can also cause injury and disease, as can consuming food that has been contaminated by mice or rats or coming into direct contact with rodent feces or urine.
Some common diseases carried by wild rodents include:
Hantavirus
Salmonella
Lymphocytic choriomeningitis (LCMV)
Leptospirosis
Tularemia
In addition to spreading disease, wild rodents can wreak havoc on your property. Excessive gnawing, chewing entry holes, and nesting can lead to structural damage, which may jeopardize the safety of your home or commercial building. This could ultimately end up costing you thousands of dollars in repairs and renovations.
We're Crawling with Great Reviews
Reviews & Testimonials
"Excellent Experience"

Great customer service and quality work.

Wes M.

"Great Experience!"

Customer service was wonderful: courteous, professional, and friendly.

Andrea H.

"Professional Service"

Professional, on time, and locally owned.

Herlinda H.

"Highly Recommend!"

We Care has been servicing our home, an office property, and a rental for about 18 months. They have followed up diligently, with courtesy and genuine concern for our property.

Maureen M.

"Great Experience!"

They showed up for the estimate on time and gave us an accurate quote for the work that needed to be done. They came back to do the work on time, and were clean and professional.

Shaw K.

"Great Company!"

Super easy company to deal with. Good and fair price.

Jason Z.

"Happy Customer!"

My neighbors have tall trees with needles and cones so we get a variety of bugs and spiders around my house and yard. With the quarterly service through We Care Pest Solutions, I don't have to worry about any of these pests.

Bobbie P.

"Experienced & Professional!"

I can always count on We Care Pest to come out super fast and handle any bug or rodent issue I have at my country property in Bennett Valley.

Mel F.
What to Do If You Have a Rodent Infestation
If you believe you may have a rodent infestation at your home or commercial property, you should contact a professional pest control company right away. At We Care Pest Solutions, we can quickly come out to your property and assess the problem to determine if you have one or two wandering rodents or a largescale infestation. We offer a range of rodent control services in Santa Rosa and the nearby areas, all of which are designed to address the root of the problem and prevent unwanted pests from coming back.
Our rodent control services include integrated pest management (IPM), a pest control strategy that combines various proven methods that, when combined, provide effective and long-lasting infestation management and prevention. Common methods used in IPM include biological control, environmental and habitat management, physical/mechanical controls, and strategies designed to curb reproduction, establishment, dispersal, and survival. In some cases, IPM may also include chemical control, or the use of safe pesticides that specifically target unwanted pests while reducing risks to people, pets, and non-targeted organisms.
Call Our Rodent Control Experts Today for a Free Estimate
At We Care Pest Solutions, we develop custom pest control solutions to exterminate rodents and keep them from returning to your home or business. We have helped tens of thousands of customers throughout the Bay Area since 1998, including homeowners, apartment managers, restaurant owners, healthcare facility staff, and more. We encourage you to reach out to us today to learn how we can help you solve your mouse or rat problem with our effective Santa Rosa rodent control services.
Call (707) 988-5780 or contact us here on our website to get started. We look forward to hearing from you and learning how we can help.
Pest Control FAQ
Frequently Asked Questions
Check out our pest control FAQ to find answers to commonly asked questions. Can't find the answer you need? Give us a call at 707-988-5780 today!
How many babies can rats have?

Rats can have a lot of babies. Some rats can have up to 12 babies at a time. That's a lot of little rats!

What is the biggest rodent ever found?

The biggest rodent ever found is the Capybara. It is a giant rodent that is native to South America. It can grow to be up to four feet long and weigh over 100 pounds.

What animals are considered as rodents?

Animals that are considered rodents typically have long front teeth that they use for gnawing and chewing. They also have short back legs, and their bodies are usually covered in fur. Some examples of rodents include mice, rats, squirrels, and beavers.

Are rodents poisonous?

Not all rodents are poisonous. Some people keep them as pets, like hamsters and gerbils. But there are other kinds of rodents that can carry diseases that can make people sick. For example, rats can carry a disease called the bubonic plague, which was responsible for a lot of deaths during the Middle Ages.