Sonoma Pest Control Services
Providing Integrated Pest Management Solutions
Dealing with pests at your home or business is not only frustrating—it could also put your health and the health of your family, employees, and customers at risk. Many Bay Area pests carry potentially harmful diseases; the sooner you get rid of these unwanted visitors, the better.
At We Care Pest Solutions, we offer fast, effective pest control services in Sonoma and the surrounding areas. Our experts receive extensive, ongoing training so that they can remain up to date on the latest, most advanced pest control techniques and products.
When it comes to eliminating pests from your home or commercial property, we rely on integrated pest management (IPM). Widely considered the gold standard in the industry, this technique incorporates a combination of proven methods, such as biological control and habitat management, to safely and effectively eradicate unwanted pests while minimizing harm to people, pets, and the environment.
To learn more about our pest control solutions, call (707) 988-5780 or contact us online. We offer free estimates and same-day service.
What Are the Most Common Types of Pests in Sonoma?
Sonoma—and the entire Bay Area—are frequently plagued by pest infestations, many of which can pose serious problems for homes and businesses alike.
These infestations can be caused by a variety of pests, including:
Rodents: Of the most common types of pests, rodents are some of the most destructive, with the ability to chew through insulation, wiring, and other materials. They can also carry serious diseases that may be transferred to humans and pets.
Termites: Termites are notorious for causing significant damage to wooden structures, often without any visible signs of their presence until it is too late. Left unchecked, a termite infestation could result in thousands of dollars of damage to your property.
Bed Bugs: Bed bugs, while not physically destructive, can cause significant discomfort and even psychological distress. Unfortunately, bed bugs are also extremely difficult to get rid of without professional extermination services.
Hornets and Wasps: Hornets and wasps present a potentially dangerous situation for people, as their stings can cause serious allergic reactions in some individuals. These insects are also known for being highly aggressive, especially when they feel attacked or threatened.
Ants: Ants can carry bacteria into your home or business. They are often drawn to food and water sources and are very difficult to get rid of without professional pest control services, making them a nuisance for many home and business owners.
Cockroaches: Cockroaches can transmit diseases and bacteria, making them a health risk to those who encounter them. Cockroaches can also jeopardize the reputation of your business, leading to poor reviews and negative customer experiences.
Fleas: Fleas can not only infest pets but also entire homes, causing significant discomfort and, in some cases, psychological distress. Once fleas have become established in your home or business, they can be very difficult to eradicate without professional help.
Mosquitoes: Mosquitoes are notorious for causing itchy, sometimes painful bites, but they can also carry diseases, such as West Nile Virus and Zika. These diseases can be extremely harmful—and even deadly—to humans.
Spiders: While often not harmful to humans, spiders can be a nuisance and may pose a danger to pets. Additionally, some spider bites can be harmful to humans, especially very young children and the elderly.
Managing these infestations on one's own can be difficult, if not impossible. However, it is important to deal with these pests as soon as possible, as prolonged infestations can lead to more significant damage, discomfort, and health risks.
Professional exterminators with the proper training and knowledge can address the infestation and help prevent future occurrences. At We Care Pest Solutions, we are equipped to handle all types of pest infestations in Sonoma and the surrounding areas.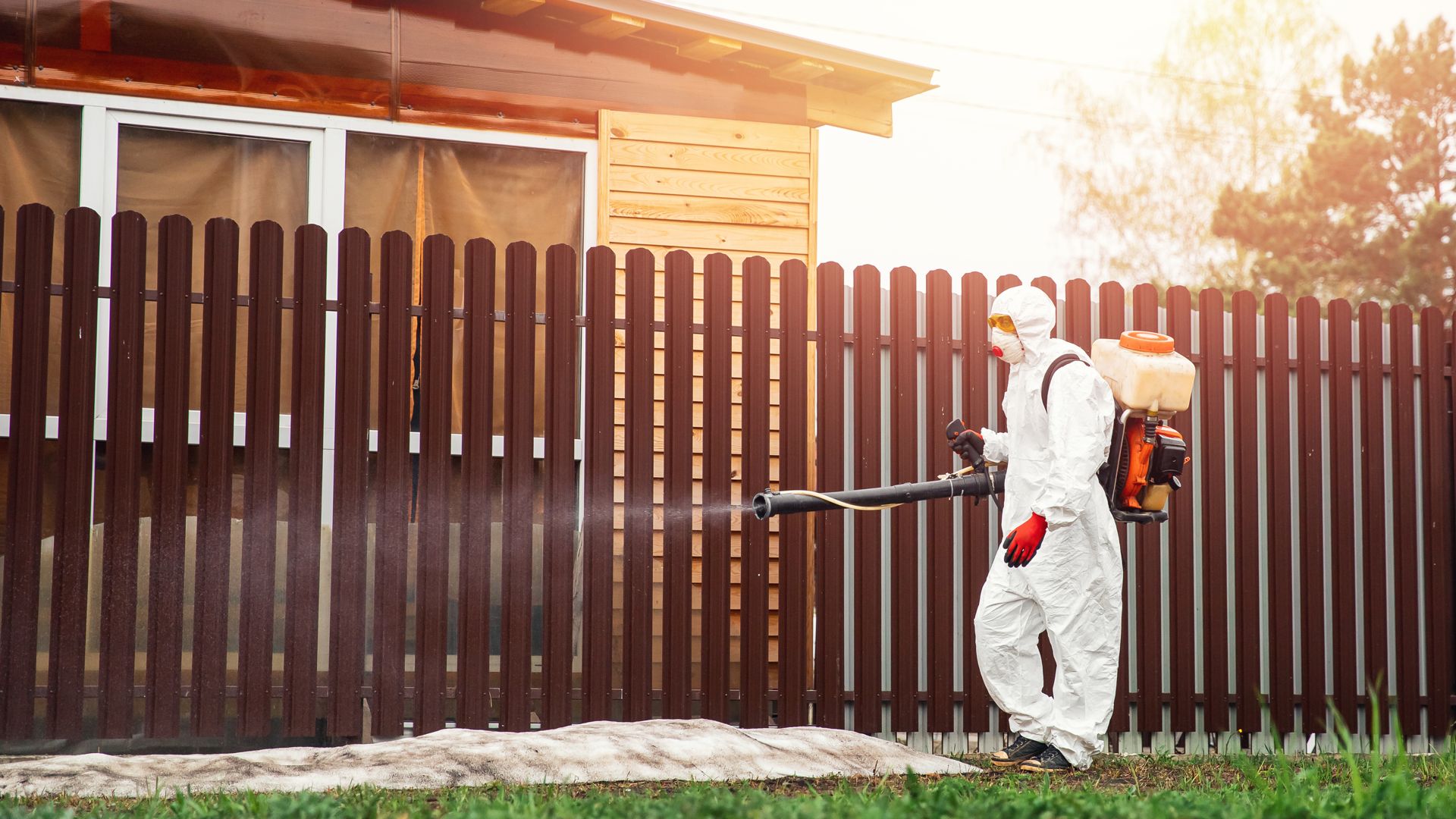 Why Choose us?
Trusted For 25+ Years for A Reason
Ofrecemos Servicios en Español

Nuestro equipo bilingüe se enorgullece de ayudar con servicios en español.

100% Satisfaction Guaranteed

We strive for 100% customer satisfaction with every job we complete.

Safe Solutions for Your Home or Business

Our pest control services minimize risk to your family, pets, and the environment.

Get a Completely Free Estimate

Get started today by giving us a call and requesting a free estimate.
Signs of a Pest Infestation at Your Home or Business
It's not always easy to tell when you have a pest problem at your home or commercial property. However, there are certain signs you can look out for that indicate you may have an infestation.
Some of these signs include:
Unusual Droppings or Tracks: Droppings, tracks, and gnaw marks left by pests in your home or business can be a telltale sign of an infestation. Rodents, like mice and rats, leave small, dark droppings with pointed ends. Insects, such as cockroaches, often leave behind fine, powdery dust that can be used to identify their presence.
Unfamiliar Noises: If you begin hearing strange noises coming from your walls or attic, it may be a sign of an infestation. Rodents will scurry around in walls and crevices, making scratching and squeaking noises. Insects often make scratching or chirping sounds as they move around your home or business.
Unpleasant Odors: An infestation can often be detected by the presence of odd smells in your home or business. Rodents and insects both produce odors that are unpleasant and could indicate their presence in your home.
Damage to Walls, Furniture, and Other Areas: Some pests, like rodents and termites, are notorious for causing damage to walls, furniture, and other areas in your home. Other pests can also cause similar damage as they burrow into wood or fabric. Look for signs of chewing, scratching, or holes in furniture or walls that could indicate an infestation.
Unfamiliar Pests: If you spot an unfamiliar pest in your home, it may be a sign of an infestation. Pay attention to any pests you see in your home or business and take note of what they look like, their size, color, etc. If you identify the pest that is causing the problem, you can take steps to control and eliminate the issue.
Increased Pest Activity: Seeing a single spider or a few ants in your home does not necessarily mean you have an infestation. When there is an increase in pest activity, however, it could be a sign of an infestation. Look out for pests like cockroaches, ants, fleas, and bed bugs, as these are all common household pests that can cause problems.
Presence of Nests: Rodents often make nests in attics or other dark areas of your home. These nests will be made from shredded paper or fabric and may contain droppings or other signs of pest activity. Insects like termites can also build nests in your walls or attic, so be sure to keep an eye out for them as well.
Unusual Bites or Stings: If you experience sudden bites or stings that weren't present before, it could be a sign of an infestation. Many insects and pests are known to bite or sting, so pay attention to any bites or stings that may have occurred recently.
If you have noticed any signs of a pest infestation at your home or business, call We Care Pest Solutions right away. Our team is ready to provide the reliable pest control solutions you need.
We're Crawling with Great Reviews
Reviews & Testimonials
"Great Job!"

Have used them to eliminate rodent issues in the past they did a great job.

Beth R.

"Kind & Helpful"

Did great job of rat removal and seclusion.

Kathleen R.

"Great Company!"

Super easy company to deal with. Good and fair price.

Jason Z.

"Great Experience!"

Customer service was wonderful: courteous, professional, and friendly.

Andrea H.

"Wish I'd Called Sooner!"

Highly, highly recommend! In less than 24 hours they were able to fit us in to take care of a yellow jacket nest tucked away in our wall.

Kevin S.

"Great Experience!"

They showed up for the estimate on time and gave us an accurate quote for the work that needed to be done. They came back to do the work on time, and were clean and professional.

Shaw K.

"Happy Customer!"

My neighbors have tall trees with needles and cones so we get a variety of bugs and spiders around my house and yard. With the quarterly service through We Care Pest Solutions, I don't have to worry about any of these pests.

Bobbie P.

"Recommend to Friends and Family!"

Within a few weeks of service the ants were not only gone from inside, I have none in the yard or garden area surrounding my house.

Linda M.
Call for Quality Pest Control in Sonoma
Since 1998, We Care Pest Solutions has been the trusted name in pest control throughout Sonoma and the entire Bay Area. Our team has extensive experience handling all types of infestations, big and small. We regularly assist homeowners, as well as all types of commercial property owners. Our services are designed to eradicate pests and prevent future infestations—get in touch with us today to learn more!
You can reach us online or by phone at (707) 988-5780. We look forward to hearing from you and learning how we can serve you!
Pest Control FAQ
Frequently Asked Questions
Check out our pest control FAQ to find answers to commonly asked questions. Can't find the answer you need? Give us a call at 707-988-5780 today!
How do you kill bed bugs?

Step 1: Look for signs of bed bugs. Check for rust-colored stains on sheets or mattresses, dark spots on walls, or small bugs crawling around.

Step 2: Vacuum the area where you found the bed bugs. Use a powerful vacuum cleaner with a hose attachment to suck up the bugs and their eggs.

Step 3: Wash all of your bedding in hot water. This will kill any remaining bugs or eggs.

Step 4: If all else fails, contact a professional pest control company, like We Care Pest Solutions, for bed bug control.

How do you prevent bed bugs?

Bed bugs are small, parasitic insects that feed on the blood of humans and animals. They are most active at night and are often found in mattresses, bedding, and furniture.

To prevent bed bugs, it is important to keep your home clean and free of clutter. Vacuum regularly and wash your bedding in hot water. Inspect your furniture for signs of bed bugs and call a pest control professional if you find them.

How many eggs do bed bugs lay?

Bed bugs lay a lot of eggs. In fact, a female bed bug can lay up to 500 eggs in her lifetime! That's a lot of baby bed bugs.