Pest Control in Fairfield
Proudly Serving the Bay Area Since 1998
If you're dealing with a pest problem at your home or commercial property, We Care Pest Solutions can help. No matter the size or the scope of the infestation, our team of highly trained and experienced exterminators can provide a solution that works. Our integrated pest management (IPM) services utilize a multifaceted approach to target unwanted pests, minimize risk to non-targeted organisms, and prevent future infestations.
If you're looking for reliable pest control in Fairfield or the nearby areas, trust the pros at We Care Pest Solutions. We have been serving residential and commercial customers throughout the Bay Area for more than 25 years, earning the respect of our community and numerous positive reviews from past customers. Get in touch with us today to learn how we can help you with your pest problem.
Call (707) 988-5780 or contact us online to request a free estimate. Se habla español.
Types of Pests Commonly Found in Fairfield
Fairfield is home to many different types of animals and insects, some of which can be a serious nuisance to home and business owners. If you own a home, apartment complex, restaurant, retail store, or any other type of commercial property, it's important that you keep an eye out for potential pests and signs of infestation. The sooner you address a pest problem, the better.
One of the most common types of pests found in Fairfield is rodents. This includes mice, rats, and other small mammals that can cause significant damage to homes. These rodents can chew through insulation, wood, and plastic, and they have been known to spread diseases, such as Hantavirus. Rodents also carry fleas and ticks, which can transmit a variety of diseases to humans and pets. To protect your home or business from rodents, it is important to seal any cracks or holes in walls and foundations, as these could allow rodents access to the property. It is also important to keep food items stored in rodent-proof containers. Regularly inspecting your property for signs of rodent activity, such as droppings, gnaw marks, and footprints, can also help prevent rodent infestations.
Other common pests in the Fairfield area include cockroaches, termites, bed bugs, spiders, ants, fleas, mosquitoes, hornets, and wasps. Cockroaches are particularly troublesome as they carry a variety of bacteria and can trigger allergies in people who are sensitive to them. To deter roaches from entering your home or business, be sure to keep food and garbage away from entry points, seal any cracks or holes around windows and doors, and regularly inspect hidden areas, such as under sinks, for roaches.
Spiders, ants, hornets, and wasps can also pose a health risk to humans if they are left unchecked. To prevent these pests from entering your home or business, it is important to remove any standing water sources, seal cracks and crevices where they can enter, and regularly inspect your property for nests or webs. If you do find evidence of any of these pests on your property, contact a professional pest control company right away to handle the issue.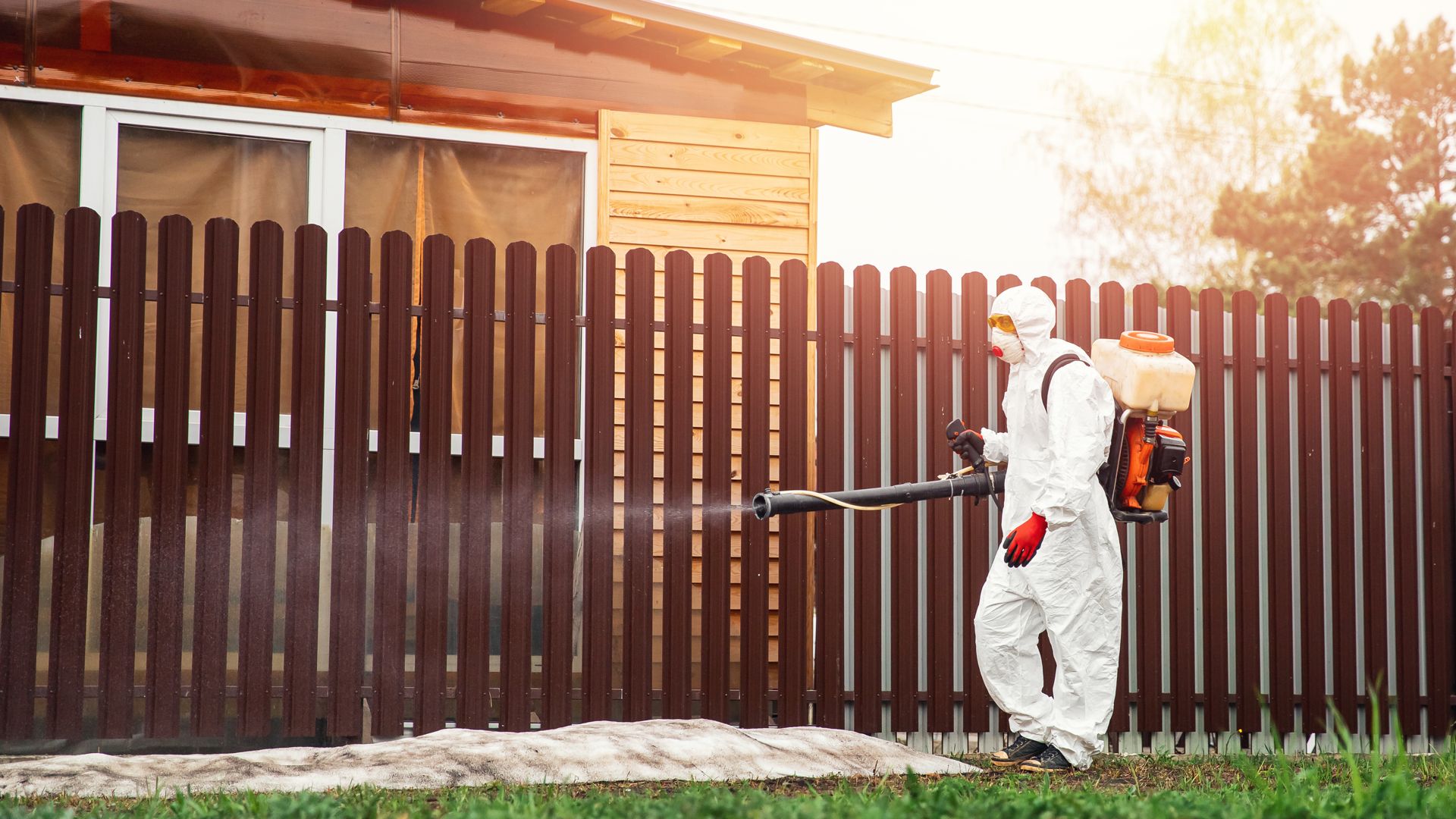 Why Choose us?
Trusted For 25+ Years for A Reason
Ofrecemos Servicios en Español

Nuestro equipo bilingüe se enorgullece de ayudar con servicios en español.

100% Satisfaction Guaranteed

We strive for 100% customer satisfaction with every job we complete.

Safe Solutions for Your Home or Business

Our pest control services minimize risk to your family, pets, and the environment.

Get a Completely Free Estimate

Get started today by giving us a call and requesting a free estimate.
How to Prevent Future Pest Infestations
If you've had a pest problem in the past, you already know how frustrating it can be. Luckily, there are some steps you can take to prevent future infestations at your home or business.
To help prevent future pest infestations, you can:
Reduce potential harborage sites for rodents and insects by removing items such as cardboard, clutter, and wood piles from around your property.
Seal any cracks or crevices in walls and floors that can provide an entryway into the property for rodents and insects. Make sure to caulk around windows, doors, vents, and pipes.
Repair any broken or damaged screens in windows and doors to help prevent the entry of pests into your home or business.
Store food and garbage in sealed containers, dispose of refuse regularly, and avoid leaving food out for extended periods of time. Make sure to clean up spills quickly to prevent attracting pests into your home and hire a professional cleaning company for your business.
Create and keep a regular pest prevention and control program in place to help prevent infestations before they begin.
Regularly inspect your home or business for signs of pests, such as droppings or nesting materials, and contact a professional if you find any evidence that an infestation is present.
If possible, trim trees and shrubs away from the house/commercial property to eliminate pathways for pests to get into your home or business.
Make sure that all outside doors have tight-fitting door sweeps and check that there are no gaps around frames or window sashes.
Don't forget the outside of your home or business! Keep an eye out for bee and wasp nests, as well as other signs of infestations.
If you suspect that your home has an infestation, contact a professional pest control service—like We Care Pest Solutions—to determine the best course of action to eliminate pests and prevent future problems. Our team can help you devise a custom solution for pest control in Fairfield or any of the surrounding areas.
We're Crawling with Great Reviews
Reviews & Testimonials
"Highly Recommend!"

We Care has been servicing our home, an office property, and a rental for about 18 months. They have followed up diligently, with courtesy and genuine concern for our property.

Maureen M.

"Experienced & Professional!"

I can always count on We Care Pest to come out super fast and handle any bug or rodent issue I have at my country property in Bennett Valley.

Mel F.

"Happy Customer!"

My neighbors have tall trees with needles and cones so we get a variety of bugs and spiders around my house and yard. With the quarterly service through We Care Pest Solutions, I don't have to worry about any of these pests.

Bobbie P.

"Recommend to Friends and Family!"

Within a few weeks of service the ants were not only gone from inside, I have none in the yard or garden area surrounding my house.

Linda M.

"Kind & Helpful"

Did great job of rat removal and seclusion.

Kathleen R.

"Great Experience!"

Customer service was wonderful: courteous, professional, and friendly.

Andrea H.

"Professional Service"

Professional, on time, and locally owned.

Herlinda H.

"Great Job!"

Have used them to eliminate rodent issues in the past they did a great job.

Beth R.
Why Hire the Pest Control Experts at We Care Pest Solutions?
We have more than 25 years of industry experience and have handled all types of pest infestations. Our team has seen it all and knows how to eradicate pests, as well as prevent future problems. Our integrated pest management (IPM) services use proven methods, such as habitat management and biological control, that are both effective and safe. Our techniques and products only target unwanted pests while minimizing harm to people, pets, and the ecosystem.
When you hire We Care Pest Solutions for pest control services in Fairfield, you can expect to receive prompt, professional service every time. We take our name very seriously—we genuinely care about helping our customers and are prepared to do everything possible to guarantee your complete satisfaction. If you are unhappy with our services for any reason, let us know, and we'll do whatever we can to make it right.
Schedule a free estimate with our team today; call (707) 988-5780 or contact us online. We also offer same-day service!
Pest Control FAQ
Frequently Asked Questions
Check out our pest control FAQ to find answers to commonly asked questions. Can't find the answer you need? Give us a call at 707-988-5780 today!
How do you kill bed bugs?

Step 1: Look for signs of bed bugs. Check for rust-colored stains on sheets or mattresses, dark spots on walls, or small bugs crawling around.

Step 2: Vacuum the area where you found the bed bugs. Use a powerful vacuum cleaner with a hose attachment to suck up the bugs and their eggs.

Step 3: Wash all of your bedding in hot water. This will kill any remaining bugs or eggs.

Step 4: If all else fails, contact a professional pest control company, like We Care Pest Solutions, for bed bug control.

How do you prevent bed bugs?

Bed bugs are small, parasitic insects that feed on the blood of humans and animals. They are most active at night and are often found in mattresses, bedding, and furniture.

To prevent bed bugs, it is important to keep your home clean and free of clutter. Vacuum regularly and wash your bedding in hot water. Inspect your furniture for signs of bed bugs and call a pest control professional if you find them.

How many eggs do bed bugs lay?

Bed bugs lay a lot of eggs. In fact, a female bed bug can lay up to 500 eggs in her lifetime! That's a lot of baby bed bugs.