San Rafael Pest Control Services
Ridding Your Home or Business of Rodents, Insects & Other Pests
If you're dealing with unwanted pests at your home or commercial property, you already know how frustrating these infestations can be. However, pest problems are not just a nuisance. Left unchecked, an infestation could potentially put your health and the health of your family members, customers, or employees at risk. Many pests carry bacteria and diseases, which can easily be passed from pests to humans or pets.
The sooner you call a professional pest control company, the better. If you've noticed any signs of an infestation at your home or business, reach out to We Care Pest Solutions right away. Our team of highly trained and experienced technicians can come to your property for an onsite assessment and free estimate. Then, we'll get right to work developing and implementing a customized plan designed to eradicate pests and prevent future infestations before they start.
Give us a call at (707) 988-5780 or submit a contact form here on our website to schedule an appointment for same-day service. Se habla español.
What Are the Most Common Pests in San Rafael?
In the Bay Area, we see all types of pests, from mice and rats to all types of insects. At We Care Pest Solutions, we have the tools, training, and expertise to address all types of pest infestations, big or small.
Some of the most common types of pests in the San Rafael area include:
Rodents: Mice, rats, and other rodents commonly make their way into San Rafael homes and businesses. These pests can wreak havoc on your property, causing significant structural damage and destroying furniture, wiring, walls, floors, and personal belongings. Rodents can also carry serious diseases, such as Hantavirus, which may put you, your loved ones, and others who enter your property at risk.
Termites: San Rafael is home to several different types of termites, all of which feed on wood. This includes the wooden structures that make up building frames, wooden floorboards, wooden furniture, and more. Left untreated, a termite infestation can lead to massive destruction, ultimately costing you thousands of dollars in repairs.
Bed Bugs: Though bed bugs are not known for carrying diseases, they do cause small, itchy bites, which can lead to significant discomfort. In addition to the physical irritation of their bites, bed bugs can also cause immense psychological distress. Making matters worse, bed bugs are extremely difficult to get rid of without the help of a professional pest control company.
Hornets and Wasps: Although wasps and hornets are good for the environment, as they help pollinate plants, they can be dangerous to humans and pets. For people who are allergic to wasp stings, the danger is severe. Because of this, it is important that you call a professional pest control company as soon as you see signs of a wasp or hornet infestation at your home or commercial property.
Ants: Ants are known for being tenacious pests; once they become established, they can be very difficult to eradicate. It's important to take care of an ant infestation right away, however, as these small insects can carry bacteria and disease into your home. They can often be found in areas where food, water, or trash is plentiful, such as kitchens or commercial dumpsters.
Cockroaches: Because they are known to carry disease, cockroaches are often seen as a sign of a less-than-spotless environment. However, these persistent insects can enter even the cleanest of homes and commercial properties—and once they're there, it's hard to get rid of them. If you have cockroaches in your house or business, you should schedule professional pest control services right away to protect your health, safety, and reputation.
Fleas: Fleas are often carried into people's homes or businesses by pets or service animals. However, these tiny insects don't just infest animals; they can also live in clothes, sheets, blankets, mattresses, and carpets. Though fleas do not live on humans, they can and will bite people, leading to itchy bumps and rashes. Additionally, some flea species carry diseases, which can be harmful to humans and pets.
Mosquitoes: It's hard to enjoy your backyard or fall asleep at night when there are mosquitoes buzzing around. Not only do these insects cause itchy bites—which can become infected or lead to allergic reactions—but they also carry a variety of harmful diseases, such as Zika and West Nile Virus. While some mosquitoes are to be expected during summer months, excessive amounts may constitute an infestation.
Spiders: Most spiders are not harmful to humans, but they can leave itchy bites. Some people are allergic to spider bites and may be at risk of infection, and some spiders—such as black widows—can potentially harm humans, especially children and older adults. If you see lots of webs or an excessive number of spiders in or around your home or commercial property, you may have a spider infestation.
At We Care Pest Solutions, we handle all types of pest infestations in San Rafael and the surrounding areas. Our services are designed to target unwanted pests while minimizing risks to people, pets, and non-targeted and environmentally beneficial organisms.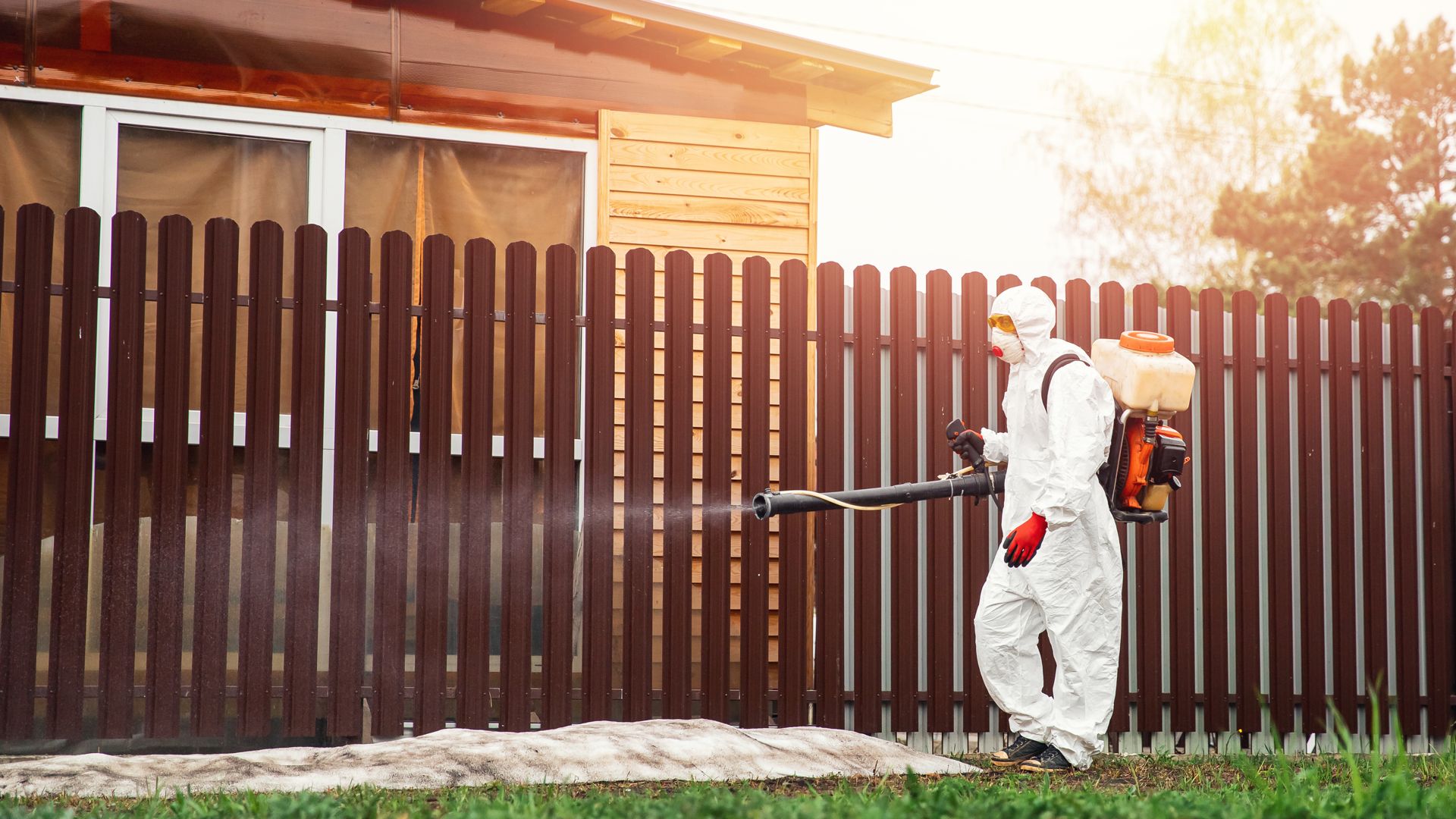 Why Choose us?
Trusted For 25+ Years for A Reason
Ofrecemos Servicios en Español

Nuestro equipo bilingüe se enorgullece de ayudar con servicios en español.

100% Satisfaction Guaranteed

We strive for 100% customer satisfaction with every job we complete.

Safe Solutions for Your Home or Business

Our pest control services minimize risk to your family, pets, and the environment.

Get a Completely Free Estimate

Get started today by giving us a call and requesting a free estimate.
What Are the Signs of a Pest Infestation?
While not every rodent sighting or spiderweb means that you have an infestation, there are some signs that indicate you could have the beginnings of a pest problem—or even a full-blown infestation.
Some of the most common signs of a pest infestation at your home or business include:
Unusual noises coming from walls or ceilings
Unexplained droppings around the house or business
Insects or rodents seen inside the property
Foul odors coming from unusual areas of the property
Damage to furniture, woodwork, and other materials
Holes in walls, floors, and ceilings from chewing or burrowing animals
Visible nests of insects or rodents in corners, under sinks, or in other hidden areas
Discarded carcasses of dead insects or rodents near food sources
Hollowing or rustling noises coming from within walls or ceilings
Increase in the number of flying insects or rodents seen inside
If you've noticed any signs of a pest problem at your home or business, call We Care Pest Solutions right away for quality pest control in San Rafael and the surrounding areas. We offer same-day service and can provide a free estimate before we begin any work.
We're Crawling with Great Reviews
Reviews & Testimonials
"Recommend to Friends and Family!"

Within a few weeks of service the ants were not only gone from inside, I have none in the yard or garden area surrounding my house.

Linda M.

"Great Experience!"

Customer service was wonderful: courteous, professional, and friendly.

Andrea H.

"Excellent Experience"

Great customer service and quality work.

Wes M.

"Kind & Helpful"

Did great job of rat removal and seclusion.

Kathleen R.

"Great Company!"

Super easy company to deal with. Good and fair price.

Jason Z.

"Happy Customer!"

My neighbors have tall trees with needles and cones so we get a variety of bugs and spiders around my house and yard. With the quarterly service through We Care Pest Solutions, I don't have to worry about any of these pests.

Bobbie P.

"Professional Service"

Professional, on time, and locally owned.

Herlinda H.

"Great Job!"

Have used them to eliminate rodent issues in the past they did a great job.

Beth R.
Pest Control Services We Offer
We offer comprehensive pest control services to residential and commercial customers throughout the area.
Our services include:
Integrated pest management (IPM)
Eco-friendly, bi-monthly pest control services
Customized pest prevention planning
Crawlspace cleanup
Tent fumigation
Bioremediation for commercial customers
At We Care Pest Solutions, we pride ourselves on our use of integrated pest management (IPM) to ensure safe and effective pest control. IPM is a comprehensive approach that incorporates a variety of techniques to tackle pest infestations holistically and efficiently. Our goal with IPM is to establish a long-term prevention plan, utilizing methods such as biological control, habitat management, environmental manipulation, and chemical control (pesticides), only using the latter when it is determined to be absolutely necessary after a thorough assessment.
It's important to note that our pesticides are specifically designed to be eco-friendly and minimize risk to not only humans but also non-targeted organisms, such as pets. We firmly believe in taking an environmentally responsible approach to pest control that is sustainable and effective in the long run. With IPM's comprehensive and multifaceted approach, we can ensure safe and efficient pest control while promoting sustainability and a healthier ecosystem.
Schedule Pest Control in San Rafael with Our Team Today
For quality pest control services you can trust, turn to the pros at We Care Pest Solutions. We are happy to answer any questions you may have and can get you set up with an appointment right away. We strive for 100% customer satisfaction, always doing whatever we can to ensure that you are completely happy with our work.
Give us a call at (707) 988-5780 or contact us online today to get started. Se habla español.
Pest Control FAQ
Frequently Asked Questions
Check out our pest control FAQ to find answers to commonly asked questions. Can't find the answer you need? Give us a call at 707-988-5780 today!
How do you kill bed bugs?

Step 1: Look for signs of bed bugs. Check for rust-colored stains on sheets or mattresses, dark spots on walls, or small bugs crawling around.

Step 2: Vacuum the area where you found the bed bugs. Use a powerful vacuum cleaner with a hose attachment to suck up the bugs and their eggs.

Step 3: Wash all of your bedding in hot water. This will kill any remaining bugs or eggs.

Step 4: If all else fails, contact a professional pest control company, like We Care Pest Solutions, for bed bug control.

How do you prevent bed bugs?

Bed bugs are small, parasitic insects that feed on the blood of humans and animals. They are most active at night and are often found in mattresses, bedding, and furniture.

To prevent bed bugs, it is important to keep your home clean and free of clutter. Vacuum regularly and wash your bedding in hot water. Inspect your furniture for signs of bed bugs and call a pest control professional if you find them.

How many eggs do bed bugs lay?

Bed bugs lay a lot of eggs. In fact, a female bed bug can lay up to 500 eggs in her lifetime! That's a lot of baby bed bugs.