Santa Rosa Spider Control
Protect Your Home or Business from Spiders in Sonoma, Napa, & Marin Counties
Spiders are beneficial insects that play an important role in the ecosystem. However, they can also be a nuisance inside your home or business. At We Care Pest Solutions, we offer spider control in Santa Rosa and the surrounding areas to help you deal with these pests.
Spiders are not known for their friendliness. Some species are known to bite humans, and some spider bites can be harmful. However, it is important to remember that spiders are not looking to attack people; they are simply doing what they need to do to survive.
Signs of a Spider Infestation
Many spiders are nocturnal and secretive, so they often go unnoticed until they start to build their webs. If you see an odd web in your home or business, you may have a spider infestation. The type of spider will determine how quickly the problem grows. For example, a black widow spider infestation can grow to hundreds of spiders in just a few months.
Some of the most common signs of a spider infestation include:
Cobwebs in corners or along windows and doors
Silky trails along walls
Webs in odd places, such as in the middle of a room
Spiders themselves
If you notice any of these signs, contact We Care Pest Solutions for fast, reliable spider control services.
The Spider That's Most Likely to Bite
While most spiders are not looking to bite people, some species will if they feel threatened. The most common spider that bites is the black widow. These spiders are venomous, but the bites are rarely fatal to humans. The symptoms of a black widow bite include intense pain, swelling, and muscle cramps.
The most common spiders that bite include:
Black widows
Hobo spiders
Brown recluses
If you are bitten by a spider, clean the wound and apply an antiseptic like hydrogen peroxide. You may also want to see a doctor to make sure the bite is not infected.
How to Get Rid of Spiders
If you have a large spider infestation, the best way to get rid of them is to call an expert exterminator. At We Care Pest Solutions, we offer a range of customizable spider control solutions for residential and commercial properties. Our team is adept at handling all types of spider infestations, and we always use safe products that won't harm you, your family, your pets, or your customers.
If you need help dealing with spiders in your home or business, call (707) 988-5780 or contact us online to schedule an appointment.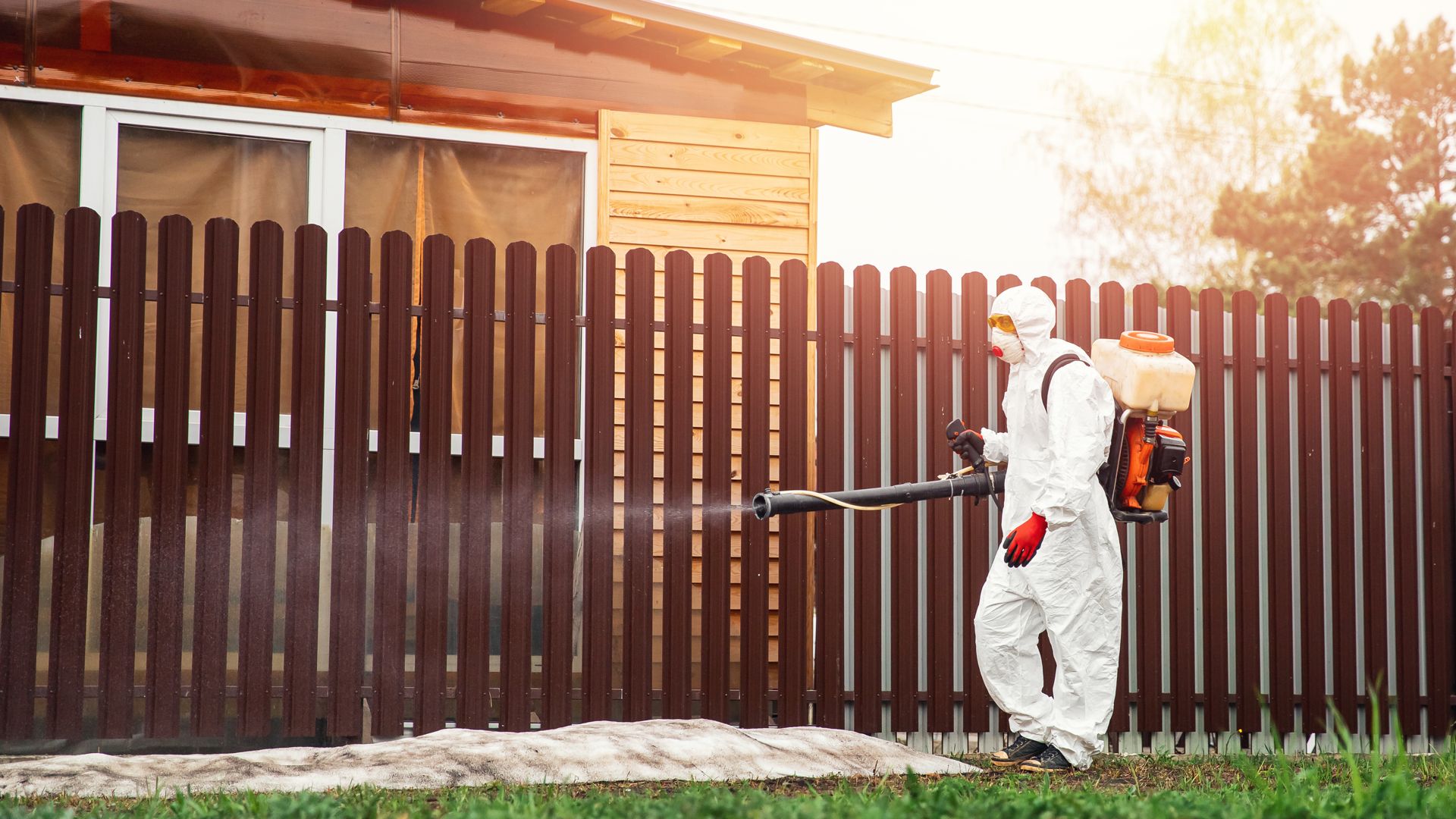 Why Choose us?
Trusted For 25+ Years for A Reason
Ofrecemos Servicios en Español

Nuestro equipo bilingüe se enorgullece de ayudar con servicios en español.

100% Satisfaction Guaranteed

We strive for 100% customer satisfaction with every job we complete.

Safe Solutions for Your Home or Business

Our pest control services minimize risk to your family, pets, and the environment.

Get a Completely Free Estimate

Get started today by giving us a call and requesting a free estimate.
Preventing Future Infestations
Once you have removed all the spiders from your home or business, you will want to take steps to prevent future infestations. You can do this by keeping your property clean and removing any spider eggs, webs, or nests that you find.
Spiders often like to nest in dark, secluded areas. You can remove these areas by cleaning, replacing clutter with open spaces, and sealing cracks and crevices.
Spider Control for Bay Area Residents
Many Bay Area homeowners worry about spiders. While many species of spiders are harmless, some are venomous and can pose a hazard to you and your family.
Spiders can enter your home through loose screens and cracks under doors, windows, and other openings. They may see your indoor space as the source of food, mates, moisture, or warmth. Once inside, spiders quickly set up shop, build webs and, for females, begin laying eggs that can quickly hatch into hundreds of baby spiders. You might notice silken egg sacs affixed in corners, on walls, within webs, or in other places. This is a sign that more spiders will soon be on their way.
Some of the most common spiders found in Bay Area homes include:
The wolf spider
The cellar spider
The black widow
The yellow sac spider
Generally, spiders feed on other insects but they can also bite humans when agitated. This can cause discomfort, allergic reactions, and—in many cases—a fear of spiders. While most spiders found in Northern California homes are not dangerous, they are generally considered to be pests. That's where We Care Pest Solutions comes in.
We're Crawling with Great Reviews
Reviews & Testimonials
"Professional Service"

Professional, on time, and locally owned.

Herlinda H.

"Highly Recommend!"

We Care has been servicing our home, an office property, and a rental for about 18 months. They have followed up diligently, with courtesy and genuine concern for our property.

Maureen M.

"Excellent Experience"

Great customer service and quality work.

Wes M.

"Great Experience!"

They showed up for the estimate on time and gave us an accurate quote for the work that needed to be done. They came back to do the work on time, and were clean and professional.

Shaw K.

"Happy Customer!"

My neighbors have tall trees with needles and cones so we get a variety of bugs and spiders around my house and yard. With the quarterly service through We Care Pest Solutions, I don't have to worry about any of these pests.

Bobbie P.

"Experienced & Professional!"

I can always count on We Care Pest to come out super fast and handle any bug or rodent issue I have at my country property in Bennett Valley.

Mel F.

"Great Experience!"

Customer service was wonderful: courteous, professional, and friendly.

Andrea H.

"Great Job!"

Have used them to eliminate rodent issues in the past they did a great job.

Beth R.
Call We Care Pest Solutions for Spider Control in Santa Rosa & Beyond
If you have noticed spiders, webs, or egg sacs around your home, or if you are suffering from spider bites, it might be time to call in the professionals to help prevent or eliminate a spider infestation. Because every home and situation are different, our team will craft a pest control solution just for you.
Our spider extermination technicians will assess the situation and recommend treatments that are safe for people, pets, and non-targeted organisms. Are you ready to tackle your pest problem? We Care Pest Solutions offers quality Santa Rosa spider control and free estimates.
Call (707) 988-5780 or contact us online to learn more.
Pest Control FAQ
Frequently Asked Questions
Check out our pest control FAQ to find answers to commonly asked questions. Can't find the answer you need? Give us a call at 707-988-5780 today!
What natural predators do spiders have?

One of the most common predators of spiders is the wasp. Wasps are attracted to spiders because they provide an easy meal for the wasp larvae. The wasp stings the spider and paralyzes it. Then, the wasp takes the spider back to its nest where the larvae eat the spider alive.

What is the biggest spider ever found?

The biggest spider ever found was the size of a dinner plate. It was found in South America and is called the Goliath Birdeater.

How many eggs do spiders lay?

Some spiders lay just a few eggs while others lay millions of eggs at one time! For example, the hobo spider might lay around 50-100 eggs while the black widow spider can lay up to 400-500 eggs.

What is a Black Widow spider?

A black widow spider is a species of spider that is known for the females' tendency to eat their mates after reproduction. The female's body is about one inch in length and is black with a red hourglass shape on its abdomen. Black widow spiders are found in temperate regions around the world and prefer to build their webs in dark, hidden places.