Santa Rosa Bed Bug Control
Bed Bug Treatment in Napa, Sonoma & Marin Counties
Bed bugs are small, wingless insects that feed on human blood. While they can be found in any part of a home or commercial building, they are most frequently found in beds, couches, and recliners. They are most active at night, and people are usually bitten when they are sleeping. Bed bugs have been found on every continent except Antarctica.
While bed bugs are not known to transmit any diseases, their bites are very itchy and can cause allergic reactions. They also leave small, round bite marks that are often mistaken for mosquito bites. Unfortunately, getting rid of bed bugs can be extremely difficult without professional extermination.
If you have bed bugs in your home, hotel, or commercial building, call the professional Santa Rosa bed bug control experts at We Care Pest Solutions. As a local, family-owned pest control company that has been serving the community since 1998, we are committed to providing superior service to all our customers. We stand behind everything we do with our customer satisfaction guarantee.
Bed Bug Control for Bay Area Residents
One of the most troublesome pests that a homeowner can encounter is the bed bug. Bed bugs are insects that feed on the blood of vertebrates and can be found almost everywhere humans are present.
Bed bugs get their name from the fact that they can usually be found around beds or other places people are sedentary for periods of time, like sofas and chairs. They are attracted to body heat, CO2 exhalation, and specific odors, making humans the perfect target for their meals and their homes the perfect bed bug habitat.
Bed bugs multiply quickly. Bringing a few home after traveling can result in an infestation of tens of thousands of bed bugs. Once you suspect you have bed bugs, it is important to contact a professional to eliminate the problem once and for all.
If you have a bed bug problem, call (707) 988-5780 or contact us online to schedule a free estimate.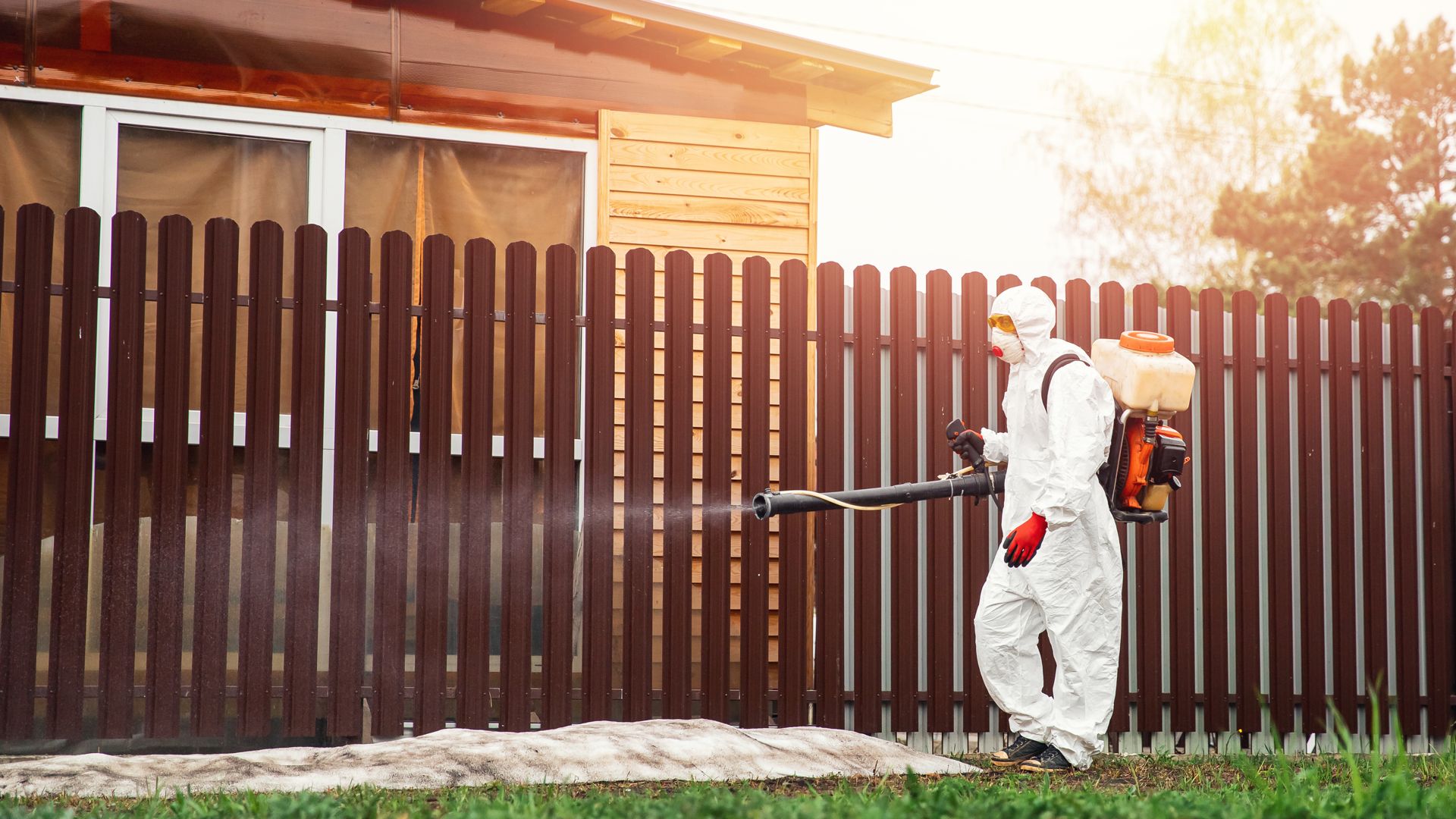 Why Choose us?
Trusted For 25+ Years for A Reason
Ofrecemos Servicios en Español

Nuestro equipo bilingüe se enorgullece de ayudar con servicios en español.

100% Satisfaction Guaranteed

We strive for 100% customer satisfaction with every job we complete.

Safe Solutions for Your Home or Business

Our pest control services minimize risk to your family, pets, and the environment.

Get a Completely Free Estimate

Get started today by giving us a call and requesting a free estimate.
Signs of a Bed Bug Infestation
Bed bugs are very good at hiding and can go for months without feeding. Because of this, it can be hard to know if you have a bed bug problem. However, there are some common signs that indicate a bed bug infestation.
There are several ways to spot signs of bed bugs, but the most telling sign is experiencing bites. Every individual can have different reactions to bed bug bites, so it is best to consult a medical professional to determine what type of insect is affecting you.
Beyond bites, you might notice stains left behind from their feces along the seams of your mattress or small blood spot stains on your sheets. It is also possible you will see live bed bugs hiding in crevices and cracks or notice their skin casts from molting.
The most common signs of a bed bug infestation include:
Red, itchy bites on your arms, legs, neck, and face
Small, dark spots on your sheets or mattress from bed bug blood or feces
A musty, sweet odor
Live bed bugs or eggs
If you notice any of these signs, it's important to schedule professional bed bug control in Santa Rosa right away. The longer you wait, the more bed bugs will spread throughout your home or business.
Not only are homeowners at risk of bed bugs but commercial properties, like apartments and hotels, can also fall victim to infestations. Regardless of whether they are in your home or your business, bed bugs are a serious problem, one that requires professional pest control solutions.
We're Crawling with Great Reviews
Reviews & Testimonials
"Experienced & Professional!"

I can always count on We Care Pest to come out super fast and handle any bug or rodent issue I have at my country property in Bennett Valley.

Mel F.

"Great Job!"

Have used them to eliminate rodent issues in the past they did a great job.

Beth R.

"Happy Customer!"

My neighbors have tall trees with needles and cones so we get a variety of bugs and spiders around my house and yard. With the quarterly service through We Care Pest Solutions, I don't have to worry about any of these pests.

Bobbie P.

"Kind & Helpful"

Did great job of rat removal and seclusion.

Kathleen R.

"Great Experience!"

Customer service was wonderful: courteous, professional, and friendly.

Andrea H.

"Wish I'd Called Sooner!"

Highly, highly recommend! In less than 24 hours they were able to fit us in to take care of a yellow jacket nest tucked away in our wall.

Kevin S.

"Great Company!"

Super easy company to deal with. Good and fair price.

Jason Z.

"Professional Service"

Professional, on time, and locally owned.

Herlinda H.
How to Prevent a Bed Bug Infestation
Because bed bugs are so difficult to get rid of, it's important to prevent an infestation in the first place. If you currently have bed bugs, these tips can help you stop future infestations before they start.
Here are some tips for preventing bed bugs:
Don't bring used furniture into your home
Avoid secondhand furniture, especially mattresses and upholstered furniture
Don't leave your home empty for long periods of time
Don't leave bags or items in the back of your car
When traveling, inspect the hotel room for bed bugs before bringing your belongings inside
Once bed bugs become established, they can be very difficult to eradicate. However, proven bed bug control techniques—such as integrated pest management (IPM)—are effective against even the most stubborn of bed bug infestations. At We Care Pest Solutions, we use IPM and other powerful methods for ridding your home or business of bed bugs, as well as preventing future problems.
Bed Bug Travel Tips
A lot of bed bug infestations start when someone inadvertently brings these creatures home on their clothing and other belongings after traveling. Bed bugs can transfer between homes, vehicles, or buildings, meaning you could stay somewhere with bed bugs and accidentally bring them home.
Here are some things you can do to protect yourself and your family while traveling:
Place your luggage, briefcases, computer bags, etc. on non-upholstered furniture, away from the bed, such as the desk. If you're using a luggage rack, inspect it prior to placing your items.
Pull back the corners of the bedding on the bed to check the mattress and box spring for bed bugs. Pay special attention to seams, where bed bugs like to hide. Black marks on the mattress could be an indication of bed bugs.
Inspect the nightstands and dressers for signs of bed bugs. Pay close attention to cracks and crevices, as these are the most common areas where bed bugs hide.
If you believe your room or sleeping area has bed bugs, let the front desk, rental agency, or property manager know and ask for a different room away from any connecting rooms.
Call for a Free Estimate for Bed Bug Control in Santa Rosa
If you need bed bug control services anywhere in the Bay Area, call We Care Pest Solutions. We have been serving the community since 1998 and have the knowledge and skills to eliminate your bed bug problem safely and effectively.
As a leading bed bug exterminator in the Bay Area, we begin with a thorough inspection and follow up with careful treatment designed to rid your house of bed bugs. Our targeted approach is effective for eliminating pests while reducing risks to humans, pets, and other non-targeted organisms. We use eco-friendly products and proven techniques to deliver lasting pest control solutions.
Call (707) 988-5780 or contact us online to request a free estimate. Se habla español.
Pest Control FAQ
Frequently Asked Questions
Check out our pest control FAQ to find answers to commonly asked questions. Can't find the answer you need? Give us a call at 707-988-5780 today!
How do you kill bed bugs?

Step 1: Look for signs of bed bugs. Check for rust-colored stains on sheets or mattresses, dark spots on walls, or small bugs crawling around.

Step 2: Vacuum the area where you found the bed bugs. Use a powerful vacuum cleaner with a hose attachment to suck up the bugs and their eggs.

Step 3: Wash all of your bedding in hot water. This will kill any remaining bugs or eggs.

Step 4: If all else fails, contact a professional pest control company, like We Care Pest Solutions, for bed bug control.

How do you prevent bed bugs?

Bed bugs are small, parasitic insects that feed on the blood of humans and animals. They are most active at night and are often found in mattresses, bedding, and furniture.

To prevent bed bugs, it is important to keep your home clean and free of clutter. Vacuum regularly and wash your bedding in hot water. Inspect your furniture for signs of bed bugs and call a pest control professional if you find them.

Where have you been finding bed bugs?

These pests are not limited to any one specific type of dwelling. Local bed bug control companies, such as We Care Pest Solutions, have witnessed infestations everywhere, including in single-family homes, multi-family housing, apartments, hotels, hospitals, school campuses, office buildings, retail stores, and movie theaters.

Do bed bugs fly?

Bed bugs do not fly, but they can move undetected over floors, walls, ceilings, and your furniture. Additionally, female bed bugs can lay hundreds of eggs about the size of a speck of dust, meaning these little pests can multiply extremely fast. 

What can Bay Area communities do to protect themselves from bed bug infestations?

To prevent bed bug infestations, Bay Area communities should be vigilant in assessing their surroundings. When returning from a trip, check your luggage and clothing. If you think you may have a bed bug infestation, contact us immediately.