Hornet & Wasp Control in Santa Rosa
Effective Hornet & Wasp Removal in Napa, Sonoma & Marin Counties
With the joys of spending time outdoors during the summer months comes the frustration of dealing with wasps and hornets. These stinging insects are common around the Bay Area and are responsible for over 200,000 emergency room visits every year in the United States.
Hornets and wasps can be a problem year-round, but We Care Pest Solutions can help you rid your home or business of these pests with effective hornet and wasp control in Santa Rosa and the surrounding areas. We have more than 25 years of industry experience and have helped tens of thousands of customers throughout Napa, Sonoma, and Marin Counties. We stand behind everything we do with our customer satisfaction guarantee; we want to prove that "We Care" is more than just a name—it's the foundation of our business.
Identifying Wasps
There are many different varieties of wasps that range in size and color. Most have a pinched waist with two pairs of wings. Wasps do not go out of their way to attack, but they will sting if they feel threatened or are disturbed.
Some of the different types of wasps commonly found in the Bay Area include:
Paper wasps
Western yellowjackets
Bald-faced hornets
Mud daubers
Tarantula hawks
Digger wasps
While not all wasps are aggressive, they can all sting. Wasp stings are typically very painful and, because wasps can sting multiple times, people who are stung once are at risk of suffering multiple stings.
Identifying Hornets
Hornets are a particularly aggressive type of wasp. While all hornets are wasps, they do have some distinguishing features that set them apart from other types of wasps, such as yellowjackets.
Some hornet-specific identifiers include:
Length: Hornets are larger than other types of wasps. They are typically 1-1.5 inches long and have two pairs of wings and six legs.
Color: Hornet coloring depends on their particular species. Some are black and white while others are black and yellow, black and gold, or black and red-brown.
Behavior: Hornets typically build large nests that are shaped either like cones or eggs. They are also more aggressive and solitary than other types of wasps.
Because hornets are so aggressive, it's best to call a professional for hornet control at the first sign of a hornet problem. At We Care Pest Solutions, we provide safe, effective, and long-lasting solutions for wasp and hornet infestations of all sizes.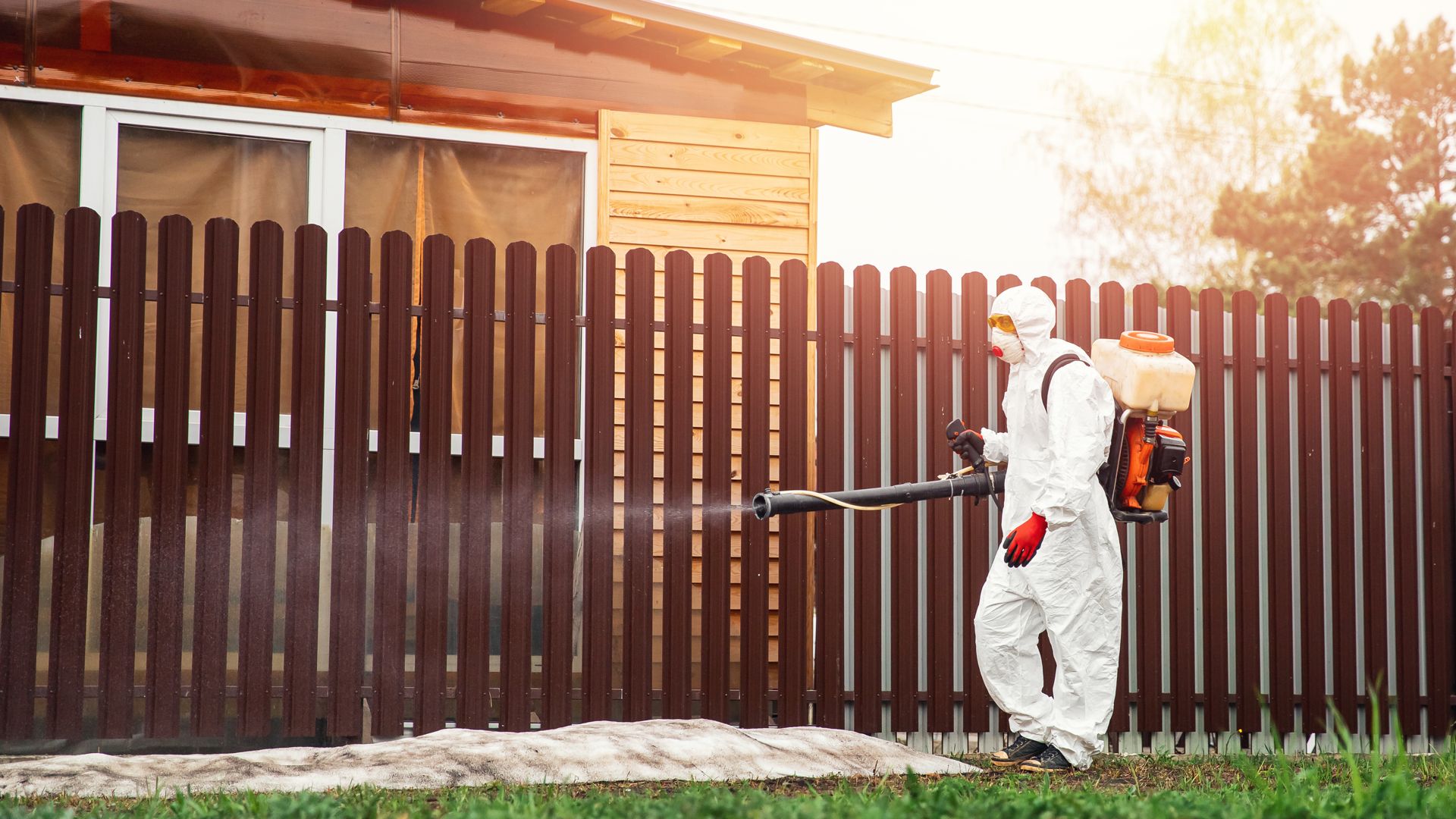 Why Choose us?
Trusted For 25+ Years for A Reason
Ofrecemos Servicios en Español

Nuestro equipo bilingüe se enorgullece de ayudar con servicios en español.

100% Satisfaction Guaranteed

We strive for 100% customer satisfaction with every job we complete.

Safe Solutions for Your Home or Business

Our pest control services minimize risk to your family, pets, and the environment.

Get a Completely Free Estimate

Get started today by giving us a call and requesting a free estimate.
Signs of Wasps or Hornets Around Your Home
While wasps and hornets can provide benefits around your home—they can be excellent pollinators, as well as prey on more harmful insects—their drive to protect their nests can have painful or even dangerous consequences, especially for those with wasp or hornet allergies.
The most telling sign you are experiencing a wasp or hornet infestation is the presence of insects or finding a nest on your property.
Some places where you might find a hornet or wasp nest include:
Eaves
Soffits
Gutters
Trees
Ground
Bushes
Shrubs
These insects create large, intricate nests and are likely to defend them if they feel threatened. To avoid negative encounters with these stinging pests, it is important to contact a professional pest control company with the right tools and training to deal with your wasp or hornet problem.
We're Crawling with Great Reviews
Reviews & Testimonials
"Great Experience!"

Customer service was wonderful: courteous, professional, and friendly.

Andrea H.

"Recommend to Friends and Family!"

Within a few weeks of service the ants were not only gone from inside, I have none in the yard or garden area surrounding my house.

Linda M.

"Professional Service"

Professional, on time, and locally owned.

Herlinda H.

"Excellent Experience"

Great customer service and quality work.

Wes M.

"Experienced & Professional!"

I can always count on We Care Pest to come out super fast and handle any bug or rodent issue I have at my country property in Bennett Valley.

Mel F.

"Great Company!"

Super easy company to deal with. Good and fair price.

Jason Z.

"Wish I'd Called Sooner!"

Highly, highly recommend! In less than 24 hours they were able to fit us in to take care of a yellow jacket nest tucked away in our wall.

Kevin S.

"Happy Customer!"

My neighbors have tall trees with needles and cones so we get a variety of bugs and spiders around my house and yard. With the quarterly service through We Care Pest Solutions, I don't have to worry about any of these pests.

Bobbie P.
Call We Care Pest Solutions for Professional Wasp & Hornet Control
At We Care Pest Solutions, we can not only help you to control your wasp and hornet infestation but also put solutions in place to avoid recurring issues. Our effective pest control services, including integrated pest management (IPM), combine a variety of proven techniques to effectively manage wasp and hornet problems. We use eco-friendly, safe products and methods that reduce risks to people, pets, and the environment.
We proudly serve residential and commercial customers throughout Napa, Sonoma, and Marin Counties. Reach out to us today for fast, effective wasp and hornet control in Santa Rosa and the surrounding areas. We offer free estimates and can come out the same day you call to assess your site. All our pest control services are completely customizable and designed around your specific needs.
Contact us online or call (707) 988-5780 to speak to a member of our team today.